Looking Back
Season Four of 'The Librarians' has run its course. So, let's look back at this season in more detail. As the season started, the team were doing their thing, recovering artifacts and making it look incredibly easy in the process.
They stopped the Library from being destroyed in episode one 'And the Dark Secret' and defeated a goddess who stole people's luck. Even Ezekiel's mum helped them to save Santa from his misguided, power-crazed brother.
One True Librarian
But, as we headed into episode five and the librarians met Darrington Dare, he cast doubt among the team. They began to question whether there could only ever be one librarian. And Flynn began to believe it too.
When Flynn's old guardian, Nicole who, believed to be dead, was actually held captive in a dungeon underneath the library, she manipulated the librarians and Eve into thinking she had changed. However, this was all just a part of her big plan to get revenge on Flynn and the Library.
Didn't See That Coming
Once the team discovered this, their mistrust of the Library began to grow. And with Eve believing Nicole's motives for escaping the Library, she and Flynn became the most manipulated out of all of them (They should've listened to Jenkins).
However, with two more episodes this season, we were given more character central episodes. Ezekiel had to work with his Mum and in turn, realised how much more mature and compassionate he had become. Cassandra got a little taste of a normal life as she explored who she could be away from the Library. And Stone realized being a Librarian means falling in love is kind of out of the question. Let's hope not!
Falling Apart
After Jenkin's body swapped with his hero and was then kidnapped by the Library so it could communicate with the Librarians about the 'Trial of One'; Flynn's disappearance and the delay of the tethering ceremony meant the three friends had to fight to the death.
But, Eve being one of the best guardians managed to save them. At a cost. Jenkins was killed and the Librarians resigned. And it was exactly what Nicole had planned. Admittedly, her plan was smartly organised and implemented. However, creating a world without the library, without knowledge or curiosity, is seriously twisted and also terribly sad. Nicole must have been incredibly close to the library if she felt so betrayed it hadn't come to save her.
Reset, Rewind
What Nicole doesn't plan for was the librarians to believe in Eve's memories of the Library enough that they worked together to bring the Library back. Even when their memories of the Library failed them, their friendship is felt without question.
The season finale resets the events of the whole season back to the very beginning when Eve and Flynn are rehearsing for the tethering ceremony. Only they know about the existence of the alternate reality. And Jenkins is alive! Technically, in this reality, he never really died because of none of the events as we know them ever happened. It's fascinating how one woman's choices can affect a whole lifetime of events.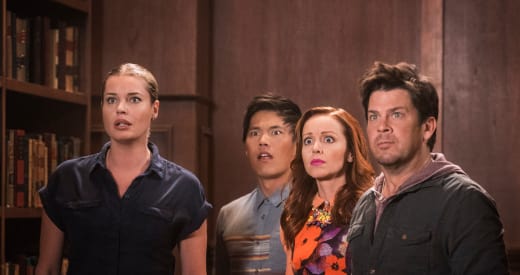 Here We Are Now
Season Four has developed the characters in more depth and enriched their role within the Library. Now that Flynn and Eve have tethered to the Library, the three librarians will no longer need to doubt whether they belong there.
They've proven that they can all survive longer and do more amazing and inspiring things if they work together as a team. The librarians and their guardian are stronger than they've ever been. Whoever they come up against next will have to watch out!